Regular price
$0.00
Sale price
$25.99
Unit price
per
Sale
Sold out
Free CA Shipping on orders over $199CAD
Ships Direct from CA - NO Tariffs and Fast Shipping
Modular Organizers
Add, remove or re-arrange organizers as needed.
Missing Tool Indicator
The missing tool indicator easily shows any tools left behind
STRONG MAGNETS
Strong magnets in the base hold the widgets securely in place

Lifetime Warranty
Strong magnets in the base hold the widgets securely in place with 7 lbs. of pull each per magnet and work with thin drawer liners.
Innovative modular socket organizers.
Vibrant orange missing tool indicators.
Powerful neodymium magnets.
Rapid tool inventory management.
Unmatched lifetime guarantee.
100% committed to customer satisfaction.
Ships direct from Ontario, Canada.

Simple and efficient tool organization.
Modular 1/4" drive socket organizers. 

100% modular socket organizers & storage.

Each organizer seamlessly links together.

Connect 1/4", 1/2", 3/8" drive socket widgets.

Boost your setup, size stems sold separately. 

Connect any number of units; 1-100.

Orange stripe flags missing tools.

No orange means all tools are secured.

Strong magnets secure the organizers.

Magnets work with standard liners.

Save 30-40% toolbox drawer space.

Maximizes tool drawer capacity.

The best socket organizers.

Compatible with other PRO widgets.

Mechanic and veteran-owned.

Patented, trademarked & copyrighted.
1 kit contains twelve 1/4" socket organizers

Also comes with 10 spacers.

Approx. 10 lbs magnetic pull per magnet.

Approx. 120 lbs magnetic pull per set.

Connect any number of units; 1-100.

Each organizer features a built-in magnet.

Orange stem secures sockets, not magnets.

Tools/size labels are sold separately.
Ships direct from Ontario, Canada.
Free Canada Shipping for $199+ orders

Next-day shipping for M-F orders

TBW-SO14 kit is 4.5 ozs shipped.
Lifetime warranty & total satisfaction.
Unhappy? Contact us, we'll make it right.
The warranty covers TBW products for life.
Committed to keeping customers happy.
View full details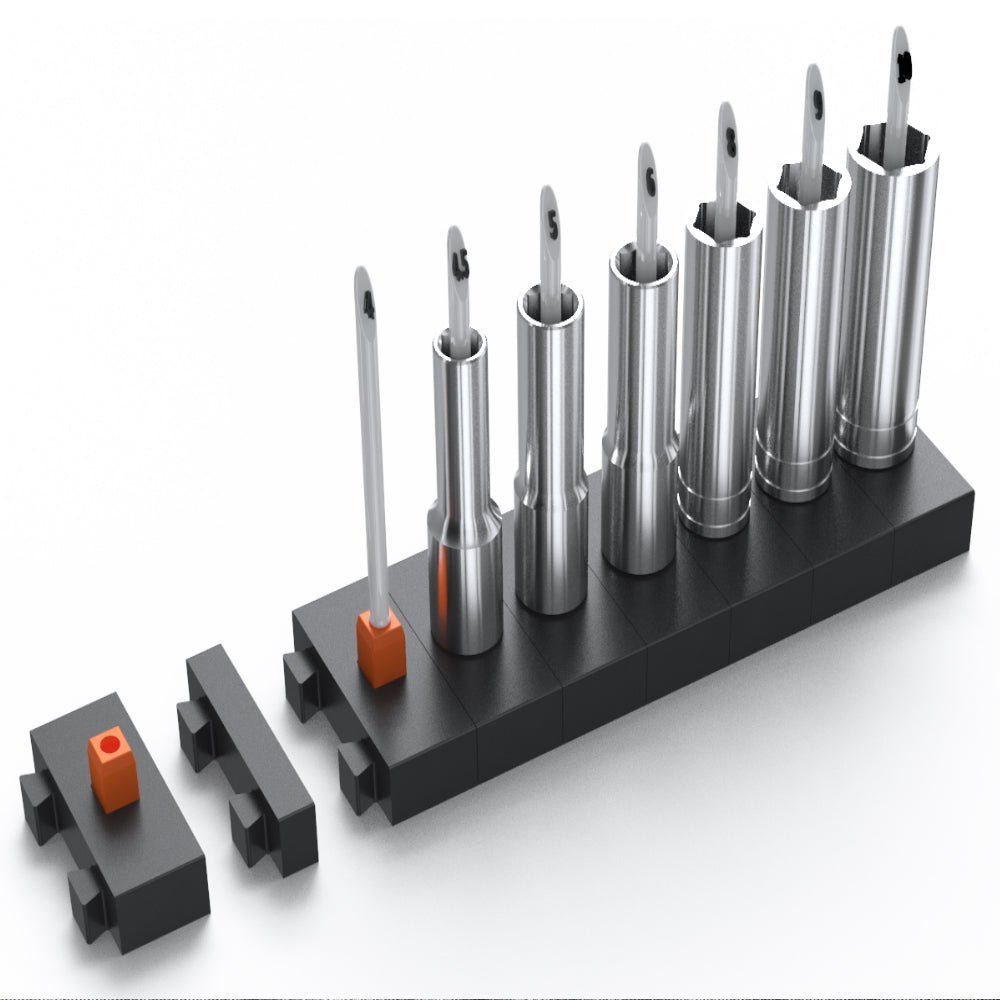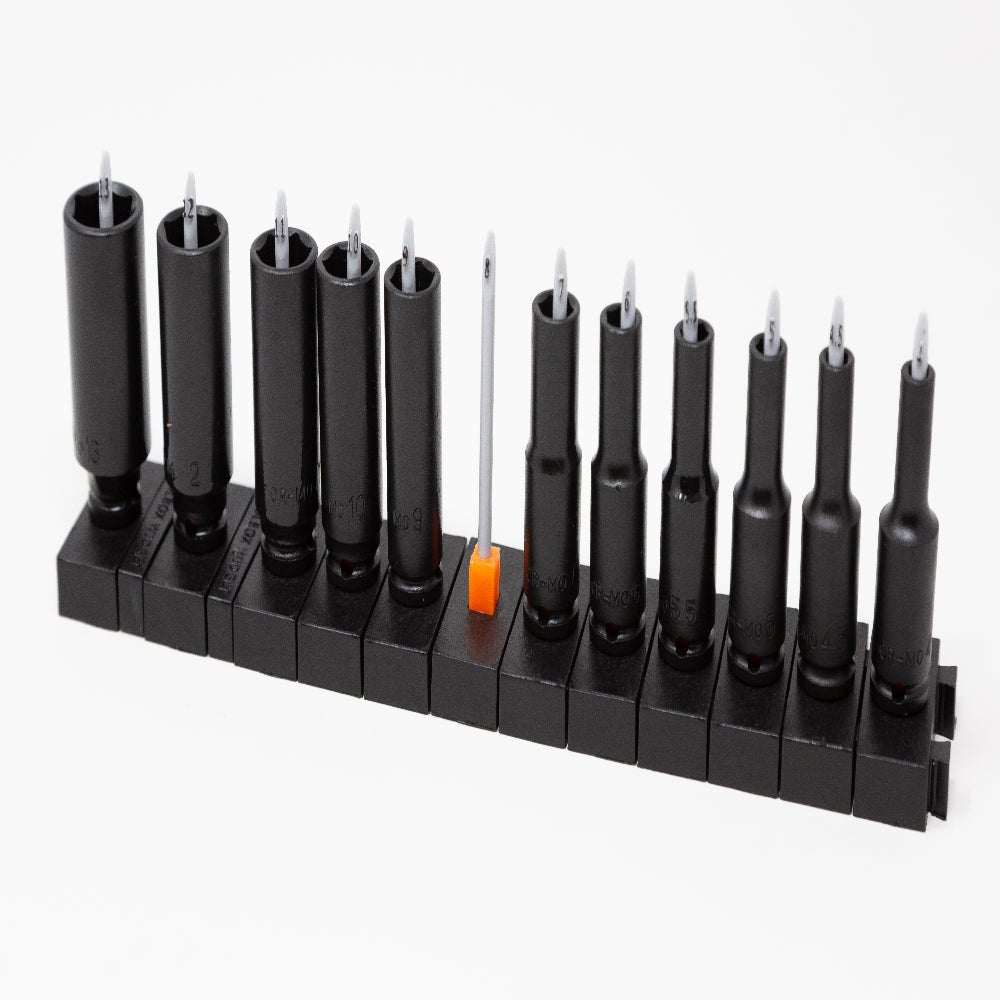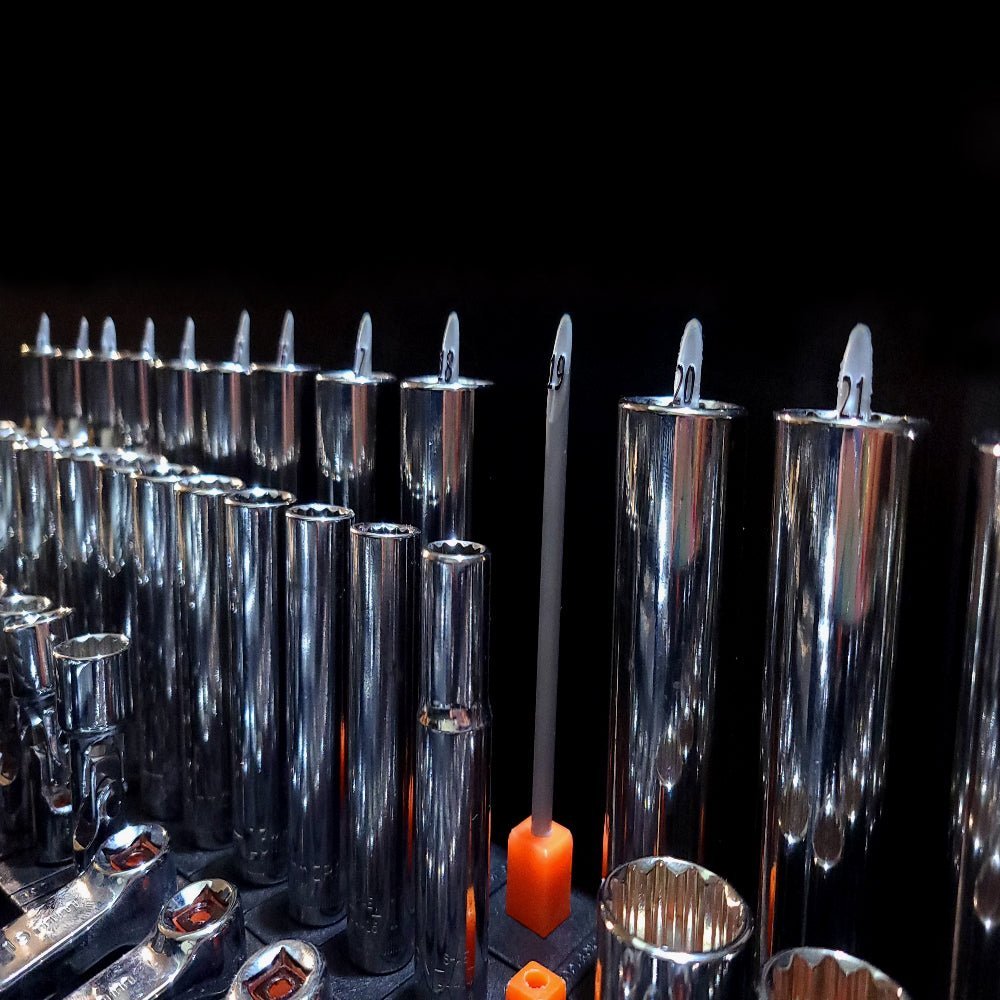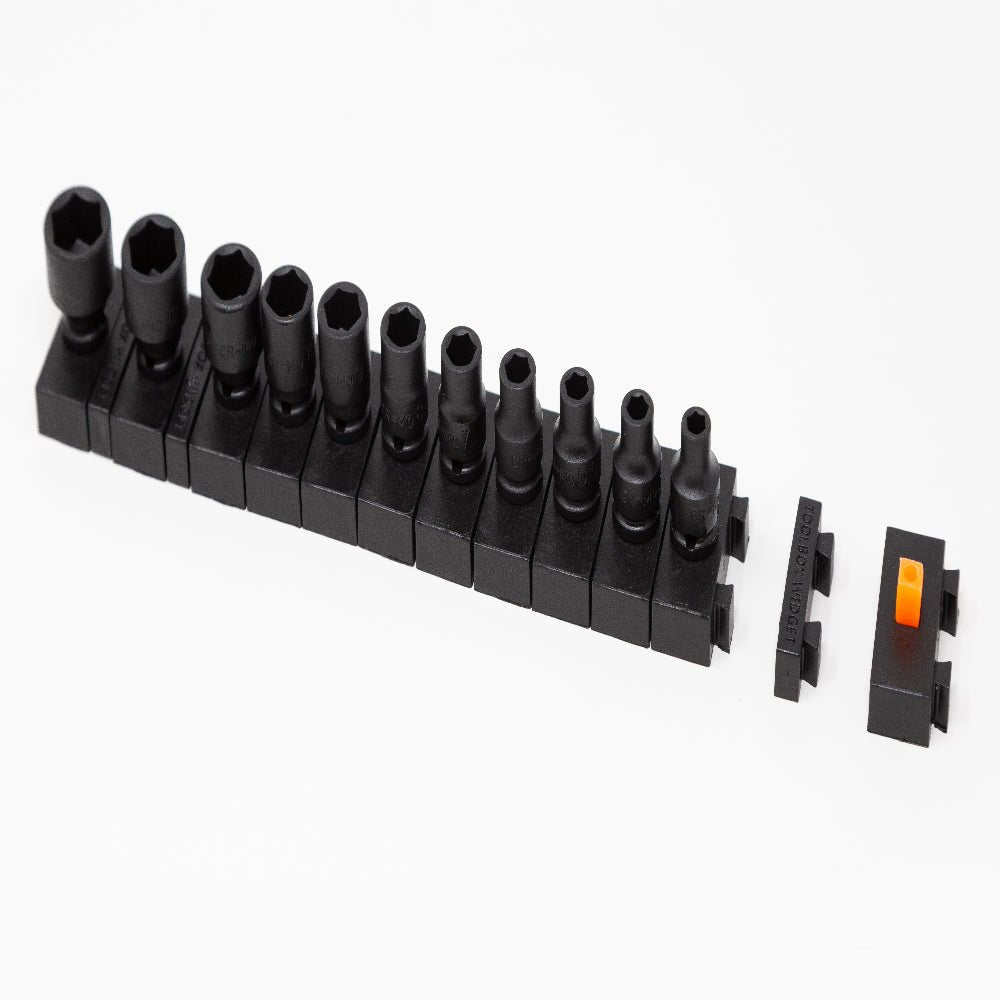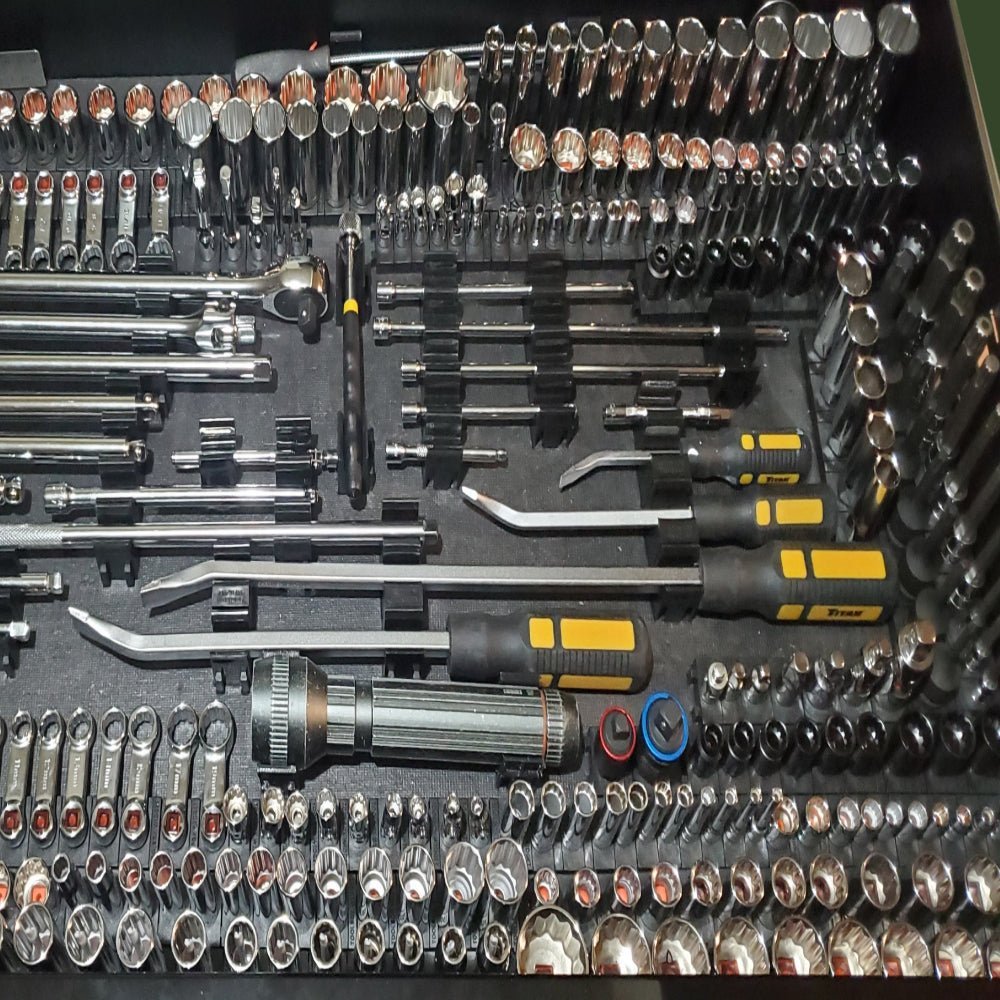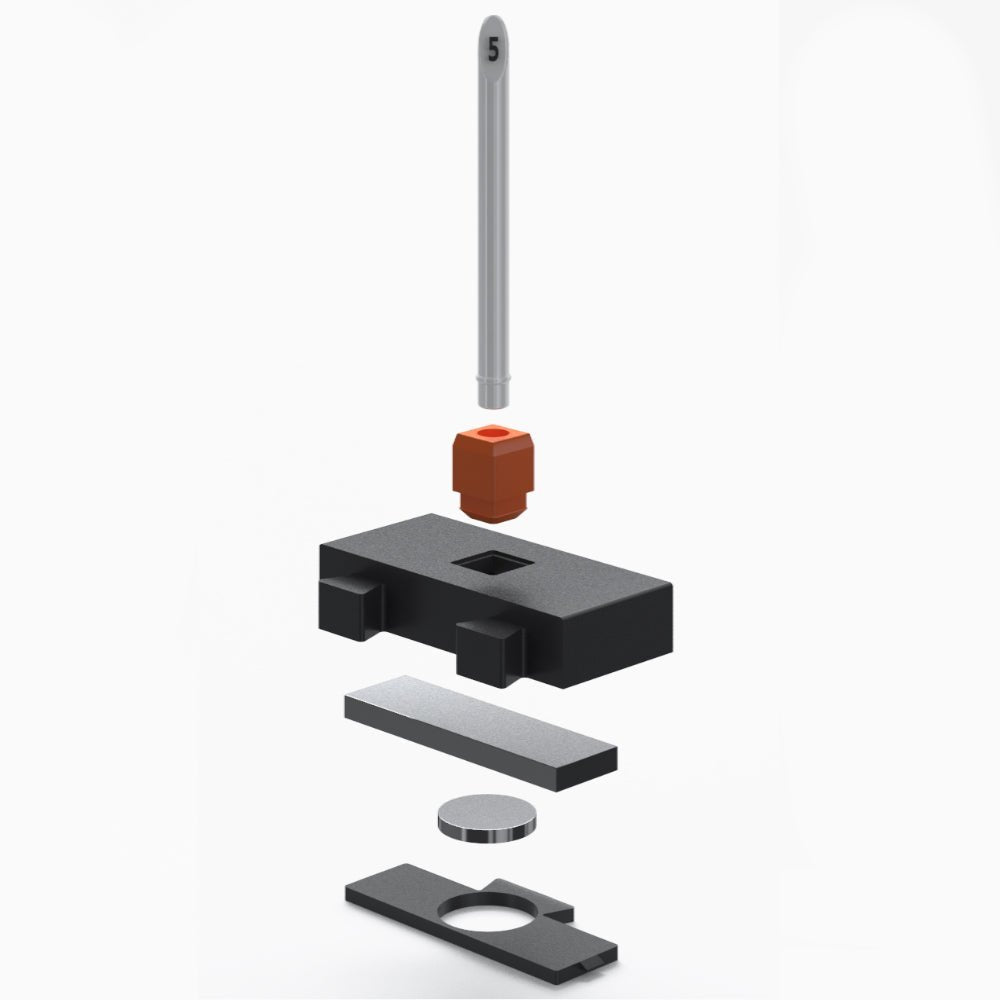 Which product line is best for you?
Whether you are a professional mechanic or organizing your personal box - ToolBox Widget has a product that fits your budget!
100% Modular and Expandable
100% modular and expandable tool organization. One kit contains 12 modular socket organizers and 6 spacers but connect and add more as needed. Holds small and large 1/4" drive sockets, crow's feet, torque adapters, and more. Saves around 30 to 40% of toolbox drawer space.
Strong Magnets Hold Widget in Place
Second Section Copy:
Strong magnets on the base holds the organizers in place to the toolbox drawer. Magnets work with thin drawer liners. Each magnet is roughly 7lbs of magnetic pull per widget.
Missing Tool Indicator
Socket inventory is super-fast and easy with orange
missing tool indicator stem. if you see any orange? Then you have a missing socket. It's that simple
100% REAL CUSTOMER REVIEWS